Hartmut Göbel: Successful against headaches and migraines. 9th edition, 2020
Preface to the 9th edition
The treatment of headaches has developed into one of the most successful and fascinating fields of medicine in recent years. Many causes of headaches have been revealed. The mechanisms that maintain and aggravate headaches are more fully understood. Headaches can now be classified and diagnosed very precisely. In 2018, the final version of the 3rd edition of the International Headache Classification was published. There are already 367 main types of headaches. This is useful because most types of headache can be treated very precisely and in a highly specialized manner. In the case of the widespread forms of headache, especially migraine and tension-type headache, prevention through behavioral adjustment, knowledge and information plays a crucial role. Without knowledge of the background that causes, maintains and complicates headaches, successful and sustainable headache treatment is not possible. But new and innovative medications are also available to headache patients today. If used specifically, these can also contribute to a significant improvement in headaches.
However, contemporary and modern knowledge must also be made directly available to those affected. In recent years, completely new ways have been implemented to ensure that patients with headaches can be cared for in the future and in a contemporary manner. New care structures, such as the nationwide headache treatment network, were developed and expanded. These enable current knowledge to be made available quickly for better and more sustainable treatment of those affected. When it comes to coordinated care, networking and interdisciplinary collaboration are essential foundations for success. Health insurance companies and health policymakers have placed the importance of headaches at the center of their activities. New networked organizational structures were set up and expanded to relieve pain for those affected and reduce costs. A great deal of power in improving care also comes from the patients themselves. They exchange ideas in self-help groups and internet forums and are committed to better care for migraines and headaches. All of this has meant that headaches and migraines can now be treated more successfully than ever before in human history.
After several reprints, this 9th edition has been completely updated and extensively expanded. Important innovations are the changes in the classification and diagnosis of headaches due to the 3rd edition of the International Headache Classification (ICDH-3), new findings on the genetic basis of migraines, the prevention of migraines and headaches in children and adolescents, and nutrition for migraines and headaches, effective digital care with the migraine app and its inclusion in the care process, new medications for attack therapy, immunotherapy for migraines with CGRP monoclonal antibodies, neuromodulation and much more. New figures and tables have been added. This new edition is also intended to help ensure that current research results are directly received and implemented in care. Modern knowledge and information can lead to lasting and effective improvement in migraines and headaches.
I wish all readers insightful insights into the fascinating processes of the human nervous system as well as successful prevention and active management of migraines and headaches.
Prof. Dr.
Hartmut Göbel in August 2020, Kiel
To this book
The renowned headache expert Professor Dr. Hartmut Göbel provides information about the forms and causes of headaches and migraines as well as modern diagnostic options and therapeutic methods, including alternative treatment methods. In addition, those affected receive important information and valuable tips on what they can do for themselves to prevent and successfully manage headaches and migraines.
Also compiled for you in this book:
Current findings on the development of migraines and headaches
New and proven medications, how they work and tips for use
Self-treatment of migraines and headaches
Addresses of self-help groups, pain experts and clinics
Service pages on the Internet www. pain clinic.de
Migraine app, headache questionnaires, checklists
Self-help community www.headbook.de
The 9th edition has been completely updated and extensively expanded, including the topics
Consideration of the current edition of the International Headache Classification (ICHD-3)
New insights into the genetic basis of migraines
Migraine and headaches in children and adolescents
Migraines in women's lives
Diet and migraines
Practical use of the migraine app in healthcare settings
New drugs for attack therapy
Immunotherapy with CGRP antibodies
Neuromodulation
The author
Prof. Dr.
med. Dipl. Psych. Hartmut Göbel, specialist in neurology, special pain therapy, psychotherapy and qualified psychologist, head physician at the Kiel Pain Clinic
www.krebsklinik.de
9th edition 2020
print edition
softcover
retail price
▶ *29.99 € (D)
Available from
▶ Amazon
eBook
Available from
▶ springer.com/shop
Süddeutsche Zeitung writes about the third edition.
Frankfurter Allgemeine Zeitung : "The research and treatment of headaches, long neglected by medicine, has now developed into a major, central health issue. Hartmut Göbel draws this conclusion in his popular book about headaches and their treatment, which has now been published in a new, completely revised edition. The author runs the Kiel Pain Clinic, a facility that has set standards in neurobehavioral medicine therapy for pain patients. One of his most important concerns is to provide extensive knowledge about the causes and treatment options for the condition, because only informed patients can ask qualified questions during the consultation. The reader is informed in detail about the individual forms of headaches and receives information on treatment, which by no means has to be limited to medication. In a separate chapter, Göbel presents unconventional treatment procedures including the injection of spider venom, striving to provide an unbiased but critical assessment. Last but not least, a checklist that enables the patient to judge whether the doctor they are seeing is competent is likely to prove helpful. A large service section with addresses, practical tips, the "Kiel Headache Questionnaire" and a description of the most important medications rounds off the headache book, which is already one of the classics."
Review Neuro Current

Self-help for headaches and migraines
Successful against headaches and migraines - every neurologist/neurologist should have read this excellent guide, which is initially intended for those affected. In March of this year, the 6th edition of this will be published, initially for those affected, by the well-known headache therapist and head physician at the Kiel Pain Clinic, Prof. Dr. med. Dipl. Psych. H. Göbel wrote the work.
Those affected are carefully and extensively informed about the types and causes, modern diagnostic options, behavioral strategies for prevention, modern medications and alternative treatment methods - always under the motto: "You don't have to accept headaches!" As the author emphasizes, the many new developments in headache and especially migraine therapy made this 6th edition necessary. In recent years, completely new ideas have emerged as to how headache patients can be cared for in a contemporary manner. Self-help groups and internet forums are now pushing hard to improve the care of these sick people. This is one of the reasons why headaches and migraines can now be treated more successfully than ever before in human history.
A service section lists headache medication, headache specialists, options for inpatient headache therapy, psychotherapy for headaches, audio recordings for relaxation training, addresses, tips for organizing self-help group meetings and service material for pain documentation.
---
Headaches – causes, mechanisms, diagnostics and therapy in practice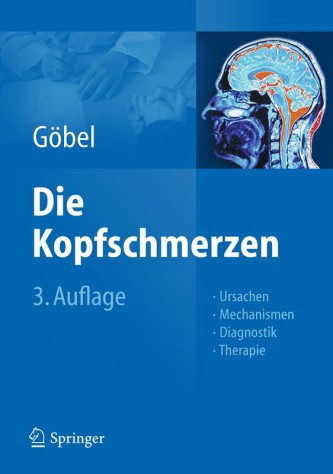 The standard work on the subject of migraines, headaches and neuralgia in the 3rd edition 2012!
Headaches are the number one widespread disease. Today there are over 250 different main diagnoses. This work shows the current state of knowledge on the causes, diagnosis and treatment of the various forms of headache. All content is very systematically structured and clearly presented. The 3rd edition has been completely revised and provides practical, practical treatment and diagnostic standards for modern headache therapy.
Current research results in recent years have revolutionized migraine and headache therapy. New care landscapes were developed to make new research results available to those affected. The practical book is ideal for all clinical questions regarding migraine and headache therapy. It provides the current basics of headache development, prevention and acute therapy. An absolute benefit for every therapist who treats patients with headaches.
Based on the current edition of the international headache classification
Practical book with evidence-based therapy recommendations
All aspects of contemporary multimodal headache therapy
Integrated care, multidisciplinary treatment
Treatment pathways, complications and pitfalls
Organization, quality assurance and coding
With questionnaires and checklists, numerous figures and tables
Web-based questionnaires and pain calendar, iPhone app
Unrivaled on the German market
"The Headache" is the comprehensive and up-to-date practice and manual for general practitioners, pain therapists, specialists in all disciplines, psychologists, pharmacists and anyone who wants to advise and treat patients with headaches based on the latest findings.
The 3rd edition 2012, Hartmut Göbel
Here you can see table of contents – The headaches
The headache. Causes, mechanisms, diagnostics and therapy in practice. Göbel, Hartmut, 3rd edit. and updated edition, 2012, XVIII, 950S.
Born, ISBN 978-3-642-20694-8
Publication date: April 2012
3rd completely updated edition 2011, Springer-Verlag Berlin Heidelberg New York:
ISBN no. 3-540-61160-6
---
Migraine – diagnosis, therapy, prevention
Migraine: hammering, throbbing and pounding in the head that won't stop. Every movement increases the pain. Life is a dark abyss, existence is complete torture. Nausea, vomiting, pain, bed rest, withdrawal into darkness and isolation lead to the extinguishing of the will to live. If you're lucky, the suffering will be over after a few hours; if not, it can last for days. There remains the fear of the next outbreak of pain and the certainty: after the attack is before the attack.
In Germany, more than 900,000 people's days are destroyed by migraines every day. Migraine is one of the most important widespread diseases worldwide, leads to severe individual disability and high societal and social burdens. Nevertheless, migraines are still inadequately recognized in the healthcare system; it is incompletely diagnosed and inadequately treated. Although very precise diagnostic criteria and effective therapeutic measures have been developed in recent years, barriers to effective treatment remain difficult to overcome. A lack or even lack of training and further education is seen nationally and internationally as a key problem for the contemporary care of migraine diseases. Although there are effective options for relief, those affected have to suffer unnecessarily and pointlessly without help. At the same time, the financial impact for individuals and the community is extremely high. This book is intended to provide doctors working in practical care with contemporary knowledge focused on the treatment of migraines. The diverse topics of specialized headache therapy across the board are discussed in the work "The Headaches". Migraine is a separate illness. It is not a symptom of any other cause. Migraine is aptly dubbed the encyclopedia of neurology. It manifests itself in numerous characteristics, influences experience and behavior and can manifest itself in disorders of almost all neurological and psychological functions. In recent years, science has made fascinating advances in the diagnosis and treatment of migraines. There are numerous new therapy methods and innovative medicines available. Their use by the knowledgeable therapist enables those affected to effectively improve their chronic suffering and sustainably restore their quality of life. The information is intended to help understand how migraines develop and to make individually effective therapy concepts immediately available to those affected.
Publication date: May 2012
Springer-Verlag Berlin Heidelberg New York:
——————————————————————————————
Review magazine DER SCHMERZ, Martin Lindig (University of Lübeck)
——————————————————————————————
There are an incalculable number of books available on the widespread disease migraines. What makes the newly published book by the proven headache expert so that we can still strongly recommend it despite the flood of existing publications?
Doctors from all disciplines who would like to find out more about migraines receive clearly presented presentations on the economic significance, current pathophysiological models, the symptoms of the disease, diagnostics and therapy.
What is special is the clear interweaving of concise case studies with the theory. Summaries printed in blue are helpful for the hasty reader. Colored sections explain central individual aspects (e.g.: The 10-20 rule in migraine therapy, climate factors and headaches, instructions for progressive muscle relaxation). Under "Practical Tips" you can easily find valuable condensates for everyday practice. Many tables provide a quick overview of, for example, classification or medication. Mostly schematic drawings and flow charts illustrate the text, but photos are also interspersed.
Göbel confidently manages to convey the full range of facets of migraines without the reader drowning in the material. Historical aspects, migraines in the lives of children, adolescents, and women, and unconventional treatment methods expand the reader's understanding of the disease and the diagnostic and therapeutic consequences.
The book is written from a single source, an advantage over the collected work of a group of authors. Göbel's fresh writing style always entices you to keep reading while leafing through the pages. But reading the treatise from beginning to end is also a pleasant pastime due to the varied presentation.
However, anyone who wants to read one or two studies specifically from the source will not have an easy time due to the lack of citations or footnotes. However, the detailed and up-to-date alphabetical bibliography shows the publications used in this regard.
A detailed index makes the text accessible to those who do not want to follow the chapter structure of the table of contents.
This makes the book both a useful companion in everyday medical practice and a stimulating read for those who want to receive comprehensive further training. Göbel's great practical and theoretical knowledge is successfully reflected here; we wish his book wide distribution!
——————————————————————————–
Review: Deutsches Ärzteblatt 2012; 109(44): A-2198 / C-1761
——————————————————————————–
Neurology: Widespread disease No. 1 − migraines
Migraine is rightly considered a widespread disease worldwide with high direct and indirect costs and socio-economic consequences. General practitioners are largely visited by patients, including neurologists, internists and orthopedists, and the range of treatment measures carried out is correspondingly wide. Göbel's book aims to make current knowledge available for migraine consultations, and this has been achieved excellently. In addition to very appealing historical reminiscences, the reader will find a wealth of the latest information about pathophysiology, differential diagnosis, course and prognosis, as well as modern and validated therapy options. However, all etiological and therapeutic ideas brought to the doctor by the patient are also discussed and critically evaluated so that the treating doctor can provide appropriate information. The text is rich in detail, but always clearly structured and easy to read. It is also very suitable for looking up individual details at short notice. Instructive illustrations and tables break up the text. Acute treatment and prophylaxis are described in detail using the latest scientific knowledge, but unevaluated, outdated or unconventional measures and special problems, such as migraines in childhood or during pregnancy, that a doctor is confronted with in practice are also presented . The book is thorough, informative, clear, practical and very pleasant to read. It can be strongly recommended to every doctor who wants to treat patients with migraines in a timely manner. Wolfgang Hausotter
---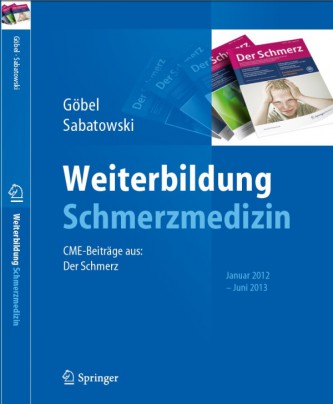 Pain medicine topics – for further education and training
Would you like to find out about changes, innovations, current topics or trends in your field?
Do you want practical information that is presented clearly and understandably?
You are about to take the exam for the additional training in "Special Pain Therapy" and
Would you like to learn or refresh the most important facts in your area?
Then grab this work! It offers you up-to-date specialist knowledge about pain medicine in high quality and at a high level - written and reviewed by experts - including on:
Tumor-related fatigue and its psychosocial burdens
Headache due to increased cerebrospinal fluid pressure
Caudal anesthesia in children: importance and aspects of safety
Fabry disease – diagnosis and therapy
Various forms of headaches of Chapter 4 of the International
Headache classification
Chronic postoperative pain – physiology, risk factors and prevention
Phantom pain – psychological treatment strategies
Ultrasound in interventional pain therapy
The content corresponds to the CME articles from the specialist magazine "Der Pain" from issue 1/2012 – issue 03/2013 and is based on the further training content for the additional training "Special Pain Therapy".
Göbel, Hartmut; Sabatowski, Rainer (ed.)
CME contributions from: The Pain, January 2012 – June 2013
2013, around 110 pp. 18 illustrations, 11 illustrations in color.
Order option: Springer-Verlag Heidelberg, Berlin, New York
---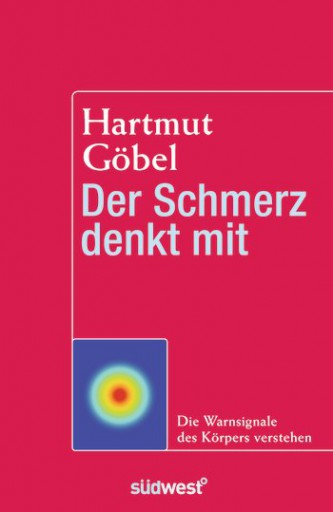 The pain thinks too
Understanding your body's warning signals
Hartmut Göbel
On the trail of pain. Understanding pain means: researching the causes. Pain is the best warning signal that something is out of balance in your body, mind and soul. Hartmut Göbel, one of Germany's most prominent pain researchers, explains where pain comes from, how it develops, what therapies are available and how you can organize your life with chronic pain. With many case studies.
Hardcover book with dust jacket, 240 pages, 13.5 x 21.5 cm, 35 b/w illustrations; ISBN: 978-3-517-08780-1; €19.99 [D] | €20.60 [A] | CHF 28.50*; Release date expected fall/winter 2014
---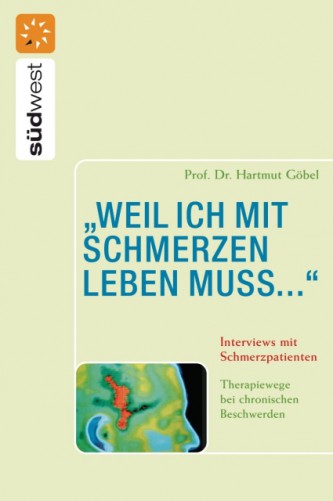 "Because I have to live with pain…"
Interviews with pain patients – therapeutic options for chronic complaints
Hartmut Göbel
While acute pain signals the brain as a warning signal for physical disorders, chronic pain exists independently without taking on a protective function. In a detailed interview, Prof. Göbel reports on his daily work, his motivation as a doctor and possible treatment strategies. A comprehensive service section on therapies, technical terms and self-help groups rounds off this very personal guide.
• Impressive interviews with pain patients
• Detailed conversation with Prof. Dr. med. Hartmut Göbel on chronic pain and therapy methods
• Service section on treatment methods, technical terms, self-help groups
• Over 8 million people in Germany suffer from chronic pain - only 2% of them receive appropriate treatment
A moving and important book
Hardcover book, 160 pages, 12.5 x 18.7 cm, ISBN-10: 3-517-08245-7
ISBN-13: 978-3-517-08245-5 € 12.95 [D] / SFr 23.60 Südwest-Verlag
---
Migraine course book
The 2nd edition 2005, Hartmut Göbel
Every morning in Germany around 900,000 days of life are destroyed by migraines. Hammering in the head that doesn't stop. Life is a dark abyss, existence is complete torment, nausea and pain. If you're lucky, it'll be over after a few hours; if you're unlucky, it'll last another three days. But the fear remains. Because soon, maybe as early as tomorrow, they'll report back, the explosions in their heads that make life hell.
Only three out of ten sufferers know that the name of this torment is migraine. Many people change doctor after doctor. They change treatment on average around eight times per year. They are disappointed in science. They seek salvation in untested alternative treatments. Almost everything is tried. You go to faith healers, to acupuncture. You bend your neck and adjust the beds in the bedroom. Teeth are pulled, glasses are readjusted, insoles are worn, and the uterus is removed. Many have no concept of their illness, not even a name for their suffering.
This book aims to counteract this migraine illiteracy. Migraine is a disease, a disease in its own right, not a symptom of anything else. Science has made fascinating advances in diagnostics and treatment in recent years. Migraines must not and must not be tolerated by those affected. The information in this book is intended to help you understand how migraines occur and find effective treatments.
Retail price 16.95 euros; ISBN no. 3517066745
2005, 2nd edition; 176 pp. with color illustrations, hardcover
---
Migraines and headaches
Help for self-help: relieve and treat pain attacks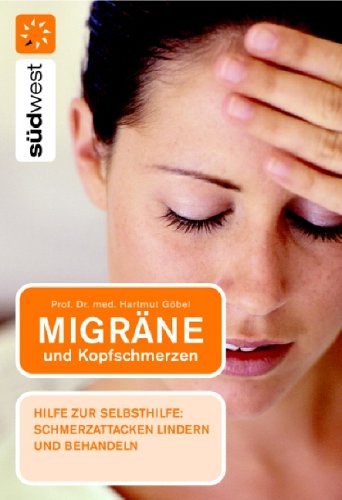 Two thirds of Germans suffer from headaches, and almost 10 million often have migraines. This paperback provides an overview of the different types of headaches and variants of migraines. It shows what possible triggers there are for headaches and migraine attacks. Based on the latest research findings, the reader receives well-founded information on effective treatment methods.
• The number of children suffering from migraines has risen sharply
• With checklists, headache diary and many tips to relieve pain attacks
Published 2006; Paperback, 112 pages, 10 illustrations, 13.0×19.0,
ISBN: 3-517-08192-2; € 6.95 [D] / SFr 12.90
---
Migrena a bolesti hlavy
Hartmut Göbel
Rok vydania: 2007; Jazyk: slovencina;
ISBN: 978-80-551-1474-3
Slovak edition
You can order here
---
Treatment of primary headaches in practice
The 2nd edition 2006, Hartmut Göbel
Migraines and headaches are among the most common illnesses that bring patients to the doctor. Almost three quarters of the population report headaches that cause significant suffering. Although there are now more than 250 types of headaches, only two of them are responsible for around 92% of all headaches: 54% are caused by tension-type headaches and 38% by migraines. These headache disorders, together with the much rarer cluster headache and some other special subtypes, form the group of primary headaches. These primary headaches are independent illnesses and not a symptom of another illness that only needs to be discovered and treated so that the headaches remit.
They therefore require independent knowledge of diagnostics, pathophysiology and therapy, which is summarized in this book as the necessary "know-how" for daily practice.
UNI-MED Science, 1st edition 2003, 136 pages, 50 illustrations, hardcover,
ISBN 3-89599-720-X, Euro 44.80, SFr 79.20
---
Neurogenic pain – management of diagnostics and therapy
1st edition 2004, Detlef Rosenow, Volker Tronnier, Hartmut Göbel (eds.)
Effective therapy for neuropathic pain requires fundamental knowledge of the pathophysiology of the pain process and the possible therapeutic strategy.
Renowned authors and experienced practitioners have compiled the topics in a clear and practical way:
Basics of pain in order to identify causes
Diagnostic procedures that quickly provide clarity
Effective conservative and surgical therapy procedures that promise treatment success:
Medications, nerve blocks, SCS, pumps, etc.
Treatment of specific forms of pain and individual clinical pictures
Also: chapters on taxonomy, physical procedures, psychiatric and psychological treatment methods.
Plus CD-ROM with numerous illustrations of imaging procedures and device systems for neuroaugmentative procedures.
Written for: specialists working in pain therapy: anesthesiologists, neurologists, neurosurgeons, orthopedists, general practitioners
2005, 440 p. 150 illustrations. With CD-ROM., Geb.
Springer-Verlag Berlin Heidelberg New York
ISBN: 3-540-21482-8
---
Facial pain and headaches from an interdisciplinary perspective
1st edition 2006, Hugger, A.; Göbel, H.; Schilgen, M. (ed.)
2006, X, 278 p. 28 illus., 5 in color., Geb.
ISBN: 3-540-23052-1
You can order here
The causes of pain in the facial, head and cervical areas are as varied as they are difficult to differentiate from one another. Experienced experts and practitioners therefore present the complex pain process from an interdisciplinary perspective:
Topography of pain
epidemiological and psychological aspects
Pain in the facial area
Pain in the head area
Cervicogenic headache and facial pain
The consistent structure of the chapters according to classification, pathophysiology, diagnostics and therapy ensures that the information you are looking for can be found quickly.
Plus: Evidence-based treatment recommendations
Tabular overview of differential diagnostics and treatment recommendations
Practical tips in each chapter
A valuable everyday reference work for every pain therapist, neurologist, orthopedist as well as for dentists and general practitioners.
---
Leading internal medicine textbooks have included the topics of pain therapy, headache treatment and palliative medicine. The chapters in the new current editions of
---
Harrison: Internal Medicine
Publisher: ABW Wissenschaftsverlag
---
Herald: Internal Medicine
---
Schölmerich: Medical therapy
come from the Kiel Pain Clinic and were trained by Prof. Dr. Hartmut Göbel wrote.
---
Botulinum toxin in special pain therapy
1st edition 2004, Hartmut Göbel (ed.)
Chronic pain can determine the lives of affected patients. The biological meaning of pain as a warning symptom of an illness or injury is no longer present. Despite medical treatment, the torment lasts for years or even decades. The primary tissue damage may have long since healed or none could be uncovered. If there is a lack of treatment, the consequences for those affected usually result in disaster. They include immobilization, deactivation, disturbances of the day-night rhythm, continuous medication, dependence on caregivers, doctor-hopping and doctor-shopping, continuous use of the health system, sick leave, retirement, social isolation, private and professional worries, and finally bitterness, anxiety, depression and so on Suicide one. But chronic pain is also a key health problem for society. The direct costs of using the health system over years and decades are increasing more and more, as are high costs for lost work, loss of income, reduced performance in family and work, financial burdens for the family and the employer, inability to work and social benefits. There are important warning signs for the chronification of pain that require intensive attention and specific treatment of the pain problem, such as pain becoming more frequent, lasting longer and spreading spatially. Pain-relieving factors become less and less effective, the pain becomes unchangeable and cannot be influenced.
The possible potential of botulinum toxin type A in the treatment of chronic pain has been revealed in numerous publications in recent years in a variety of experimental and clinical findings. In this volume, the most important areas of application of botulinum toxin type A in pain therapy are described by national and international experts and its practical application is explained. Botulinum toxin type A has proven in numerous studies in recent years to be an effective form of therapy in the treatment of a wide variety of diseases with severe pain. These include numerous neuromuscular diseases, myofascial pain, neuropathic pain, and in particular primary and secondary headaches. As early as 1987, Brin et al. reported that in the treatment of cervical dystonia, pain responds earlier and to a greater extent than muscular hyperactivity. New studies show that botulinum toxin type A is clinically effective not only by inhibiting the exocytosis of acetylcholine. Rather, the activity of numerous neurotransmitters and neuropeptides can be inhibited, which causes both peripheral and central sensitization as part of pain chronification and the formation of pain memory. The latest studies show that botulinum toxin type A can inhibit the release of substance P, glutamate and CGRP, among other things. The activation of WDR neurons and the expression of C-Fos in the dorsal horn are inhibited. Botulinum toxin type A is therefore able to inhibit the neurotransmission of pain signals from the periphery to the cortex, in addition to the previously known chemodenervation of skeletal muscles. Botulinum toxin type A thus opens up a variety of possibilities for specific and targeted intervention in pain chronification processes. Botulinum toxin type A has a firm place in pain therapy. The United States Food and Drug Administration (FDA) approved botulinum toxin type A for the treatment of pain associated with cranial dystonia in 2000. This headache cause is also included in the current 2nd edition of the International Headache Society's headache classification (2004). Botulinum toxin type A is now used for many pain disorders. Most pain and headache experts who keep up with new developments in the field of specialized pain therapy use botulinum toxin type A.
However, botulinum toxin type A cannot be taken easily like other medicines and the effect cannot be observed after a few hours. The form of therapy must be used by an experienced and experienced user in order to achieve a targeted and effective treatment. If applied incorrectly, there will be no effect. Special neuro-anatomical knowledge is required. A simple cookbook application is usually not possible. The underlying pain disorders must be carefully clarified through differential diagnosis and all pathogenetic factors must be addressed in a comprehensive treatment program. The therapeutic effect can sometimes only be achieved after several treatment cycles; the preparation, dosage, dilution, selection of injection areas and injection technique require in-depth knowledge and extensive practical experience. The aim of the book is to make the current scientific evidence for the use of botulinum toxin type A available to the reader in summary and to enable a better understanding of the rationale and the use of botulinum toxin type A in stubborn, specific chronic pain diseases.
UNI-MED Science, 212 pages, 1st edition September 2004,
ISBN 3-89599-803-6, Euro 44.80
---
International Headache Classification 2004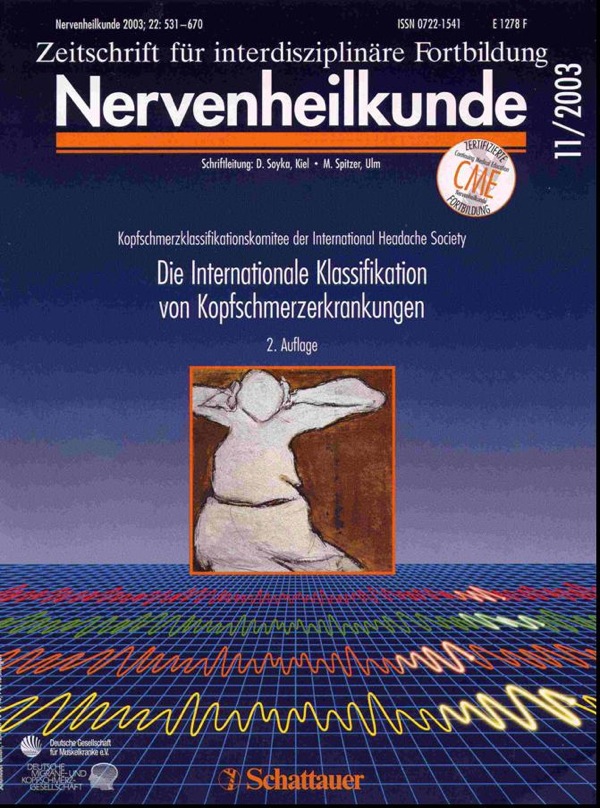 The 2nd edition 2004
translated by
Dr. Katja Heinze-Kuhn,
Dr. Axel Heinze and
Prof. Dr. Hartmut Göbel
November 2003
Magazine "Neurology"
---
Classification text on the Internet
The Headache Classification Committee
the International Headache Society
International website for headache classification in the major world languages,
developed by Prof. Dr. Hartmut Göbel
---
ICD-10 guidelines for the classification and diagnosis of headaches
Hartmut Göbel (ed.)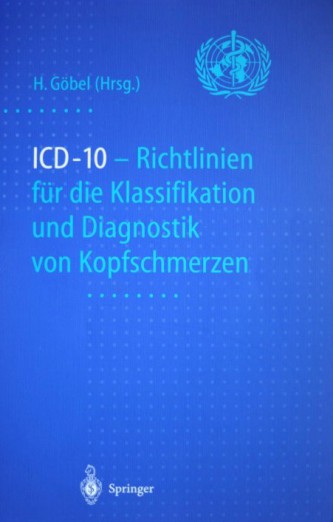 The treatment of headaches affects almost all areas of medicine. According to new epidemiological studies, around 54 million people in Germany say that headaches are a recurring or ongoing health problem for them. 3% of the population suffer from headaches every day for years or even decades. Around 3.7 billion doses of painkillers are taken every year in Germany, around 80% for headaches.
The WHO has taken into account the importance of headache disorders by publishing an independent diagnostic manual, the German edition of which is available here. The text describes exact and operationally defined criteria for all headache disorders known today and makes the entire official diagnosis code available for the first time. Knowledge and use of this internationally uniform classification system is a prerequisite for keeping pace with international progress in the development of new therapy options.
Retail price 15.84 euros; Springer-Verlag Berlin Heidelberg New York: ISBN no. 3-540-65242-6
---
Botulinum toxin. Active principle and clinical application
Markus Naumann, Steffen Berweck, Hartmut Göbel, Harald Hefter, Florian Heinen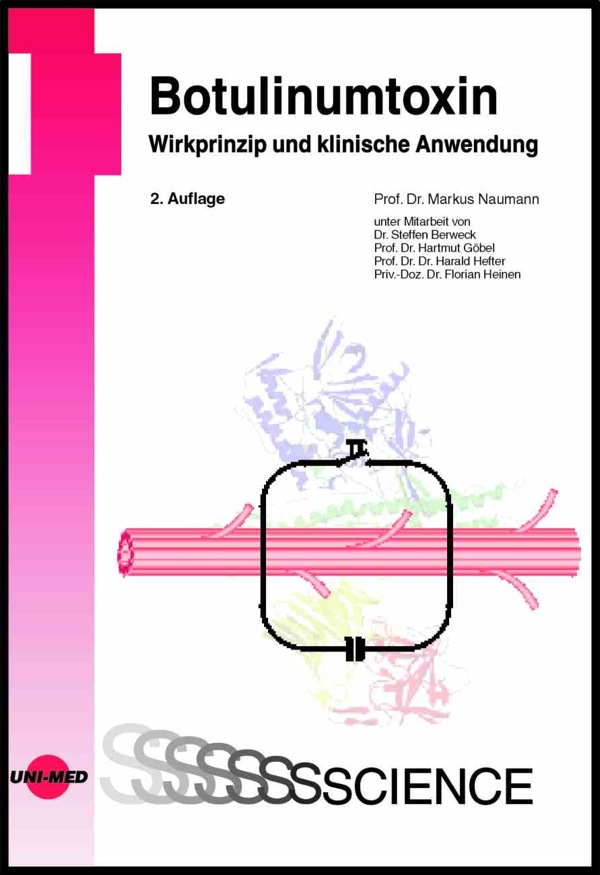 The newly edited and significantly expanded second edition of this book summarizes the state of knowledge on all of the important clinical applications of botulinum toxin currently described in a concise and up-to-date manner. The focus is again on the practical application of botulinum toxin. On the one hand, the book is aimed at users who are already familiar with the substance, especially from the fields of neurology, rehabilitation medicine, pediatrics, internal medicine, dermatology, ENT, urology, etc., in order to quickly access important indications, anatomical conditions and in daily practice To have dosages of botulinum toxin. For the first time, a detailed section is dedicated to the treatment of pain disorders. The book is also intended to be an important guide for general practitioners for pre-selecting potentially suitable illnesses and for the continued care of patients who are already undergoing appropriate treatment.
UNI-MED Science, 2nd, revised. Edition 2003, 128 pages, 76 illustrations, hardcover, ISBN 3-89599-589-4, Euro 44.80
---
Pain measurement
Hartmut Göbel
From the foreword by Prof. Jean Schoenen:
In order to better understand the biological laws of life, it is not only necessary to identify and observe the phenomena of living things, but also to quantitatively record their connections.
(Claude Bernard, 1856, "Introduction to the Etude of Experimental Medicine")
Pain is an ever-present, heavy burden on humanity and a major public health problem. Pain is also a complex human experience and many aspects of it cannot be measured in animal experiments. This is particularly true for headaches, which are the most common pain problem in humans. To study pain scientifically, quantifiable and reliable methods are needed that can also be used on patients. In order to understand pain mechanisms, a comprehensive approach is necessary that analyzes and correlates the various facets of the pain perception process. These two aspects have been brilliantly taken into account in this work. The first quality feature of this book is certainly that it introduces new methods for measuring human sensitivity to pain. However, it seems to me that the most valuable contribution lies in the multidisciplinary approach to the study of pain. In fact, for the first time in headache research, studies are being presented that examine the cephalic and extracephalic pain sensitivity, the EMG activity of pericranial muscles, the exteroceptive suppression of the activity of the temporalis muscle, psychological characteristics and clinical data in their interaction. The author not only used the methods for primary and symptomatic headaches, but also applied them to a new, experimental headache model that he developed. There is no doubt that other chronic pain syndromes can also be fruitfully studied using such an approach. Last but not least, the study results are accompanied by a comprehensive literature review of pain mechanisms and research methods for their analysis; these are discussed in the light of the most recent concepts of pathogenetic mechanisms of headaches. The number of over 600 references illustrates the broad encyclopedic basis to which the author can draw his own data. For these and the reasons mentioned above, this book is undoubtedly a must-have reference for anyone interested in pain and headaches.
After reading this work, I puzzled over what conditions enable a person to perform work of this quality. It looks like the recipe is pretty simple. It is enough to study at such famous universities as Munich, Würzburg, Ulm and Kiel, with internationally renowned experts such as Prof. 0. Heller, Prof. RF Schmidt, Prof. R. Schüttler, Prof. D. Soyka and Prof. W .Westphal, as well as having university degrees in both psychology and medicine; you add a good dose of enthusiasm, skill and scientific perseverance and you get the characteristics and background of the author Hartmut Göbel. It is my pleasure to sincerely congratulate Hartmut Göbel on this impressive work. I am grateful to him for demonstrating that clinical headache research can be carried out successfully when given the same high standards that basic research requires.
Prof. Jean Schoenen, MD, Agrege
Research Director NFSR, Belgium
General Secretary of the International Headache Society
President of the European Headache Federation