The rooms are equipped with, subject to availability
Bath, shower, toilet
Telephone (flat rate, no charge units)
Internet/WLAN access (free of charge)
TV
Refrigerator
Shower and hand towels are provided
Accommodation can be in one-, two- and three-bed rooms, depending on the individual's individual health insurance and the desired optional services.
The Kiel Pain Clinic consists of three wards
Schwentine station
Förde station
Maritime station
The picture shows a view of the Maritim station

View from a room in the clinic of the Schwentine estuary and the Kiel Fjord, the sailing harbor and the pier for research ships.
Often a guest: The Russian research ship Akademik Keldysh , particularly known for its role in the film "Titanic"
---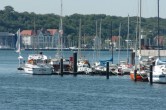 View of the Schwentine estuary across the Kiel Fjord to the Institute for the World Economy and the Kiel Yacht Club
---
Maritime life takes place right on your doorstep: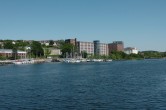 IFM-GEOMAR, the Leibnitz Institute for Marine Sciences at the University of Kiel, Kiel seaport , sailing boats, cruise ships , the navy, seagulls - and with a bit of luck: whales, seals and dolphins.
The Institute of Oceanography provides the current weather data
---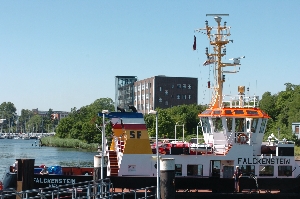 The Schwentine ferry line runs Monday to Friday from the Reventlou Bridge at the Landeshaus in Kiel to the east bank and docks there at the jetties of the pain clinic, the Dietrichsdorfer Bridge and the Neumühlen Bridge.