.
All forms of primary and secondary headaches, acute and chronic forms and their complications.
Primary and symptomatic head and facial neuralgia, trigeminal neuralgia, all forms of facial pain.
Nerve root irritation, pain after disc operations, spinal diseases.
All forms of pain in diseases of the central and peripheral nervous system.
Post-traumatic headaches, pain after cervical spine trauma, pain from nerve injuries.
.
The Kiel Pain Clinic is an approved hospital in accordance with Section 108 SGB V and is included in the hospital plan of the state of Schleswig-Holstein (plan hospital). In addition, in accordance with the care contract in accordance with Sections 108 No. 3, 109 SGB V, the clinic provides acute, fully inpatient treatment (Section 39 Paragraph 1 SGB V) for the indications of chronic pain in diseases of the health insurance associations for insured persons living outside Schleswig-Holstein central, peripheral and autonomic nervous system including the muscles as part of neurobehavioral medical treatment procedures. Insured people from all statutory health insurance companies, all private health insurance companies, those entitled to benefits and self-payers are treated. To be admitted to hospital as an inpatient, you need a doctor's prescription for hospital treatment and proof of medical necessity based on the previous findings. This must provide sufficient justification for fully inpatient therapy.
As a specialized center for chronically ill pain patients, the Kiel Pain Clinic provides outpatient and inpatient treatment to those affected throughout Germany and abroad. Numerous innovative health insurance companies have regulated coordinated, integrated care in accordance with Section 140a ff SGB V with our treatment network. This enables participating insured persons to receive extended and coordinated treatment with significant advantages over and above the usual standard care. We will inform you of this when you register and you can decide whether you want to take part in standard care or expanded integrated and coordinated care (see below).
For those insured by health insurance companies for whom there is an agreement for integrated care, the indication, the coordinated treatment beyond standard care and the reimbursement of costs are clearly regulated nationwide in a smooth and unbureaucratic manner.
You only realize how much health insurance is worth when you actually need it. It depends on their performance. Health insurance companies that are committed to modern care for their insured persons proactively provide modern, coordinated care, especially for chronic and complex pain disorders, as an alternative to traditional standard care and off-the-shelf treatment. Bureaucratic hurdles are removed in favor of a goal-oriented treatment organization that is clearly regulated for everyone involved. Numerous health insurance companies have therefore agreed on integrated care for their insured persons with our treatment network beyond the traditional standard care. This applies to insured persons
Technicians' Health Insurance
, the
Barmer replacement cash register
, the
Hanseatic health insurance company HEK
, the
Contractual cash registers of the BKK regional association Northwest: BKK Akzo Nobel -Bayern, BKK B. Braun Aesculap, BKK Deutsche Bank AG, BKK exclusive, BKK Freudenberg, BKK Gildemeister Seidensticker, BKK HMR (new name: previously "BKK Herford Minden Ravensberg"), BKK Linde, BKK MAHLE, BKK Melitta Plus, BKK Miele, BKK PFAFF, BKK Pfalz, BKK PricewaterhouseCoopers (PwC), BKK PUBLIK, BKK RWE, BKK Salzgitter, BKK Technoform, BKK Textilgruppe Hof, company health insurance company Vereinigte Deutsche Nickel-Werke (BKK VDN) , BKK Economy & Finance, BKK Würth, BKK ZF & Partner, BKK24, Continentale BKK, Debeka BKK, energie-BKK, Heimat Krankenkasse, Mobil Krankenkasse name change as of April 1st, 2021 (old: BKK MOBIL OIL), pronova BKK, R+V Company health insurance company, Salus BKK, TUI BKK, vivida BKK, WMF BKK
.
When you are admitted, we will inform you about the possibility of taking part in integrated care. You can find specific information here on our homepage under the respective treatment programs for integrated care.
The necessary patient characteristics for the implementation of fully inpatient multimodal pain therapy are legally defined in OPS code 8-918 "Multimodal pain therapy". At least three of the following characteristics must be met:
Manifest or threatened impairment of quality of life and/or ability to work
Failure of previous unimodal pain therapy, pain-related surgery or withdrawal treatment
existing medication dependence or misuse
pain-maintaining psychological comorbidity
serious somatic concomitant illness
These characteristics must be checked before starting treatment. The waiting time before admission varies. The individual illness is also taken into account and the time until admission can be several months. For the legally required examination of the indication for admission according to the stated requirements, we require the following documents:
Statutory additional payment
We ask you to note that every patient with statutory insurance must pay an additional payment of 10 euros for 28 days. The hospitals are obliged to collect this additional payment. The additional payment is regulated in accordance with Section 39 Paragraph 4 SGB V (fully inpatient hospital treatment).
For self-payers, a commitment from the patient to cover the costs is required. If you would like to have the costs reimbursed by a private health insurance company, they must agree to cover the costs. There is eligibility for aid.
Children can be admitted to hospital at any age. Accompanying persons can either be accommodated in the child's room or in guest rooms in the clinic.
Information about the treatment process
You can find detailed information about the treatment process on our website
Homepage
and in ours
Clinic information brochure
Further individual information about inpatient admission can be obtained
by email Please be so kind as to inform yourself in detail about the general formalities here on our homepage. In the Internet age, we do not send brochures and documents by post. Telephone: 0431-20099120
Fax: 0431-20099129
iv-netz@krebsklinik.de
Outpatient pre- and post-treatment
The registration for
outpatient pre- and post-treatment
as well as to the
outpatient follow-up examinations
in our headache center as part of integrated care is possible via:
Phone:
0431-20099400
Fax:
0431-20099409
praxis@ pain clinic.de
What you should bring with you to the consultation
Please compile the following documents for outpatient treatment and bring prepared copies of all documents for your stay with us to your appointment:
Copies of all preliminary findings (you can get them from your family doctor or referring specialist)
If necessary, x-rays and copies of the findings reports (you can get them from your family doctor or referring specialist)
Pain calendar kept over a period of at least three months - here in paper form, the pain calendar as a browser version , or as an app for iOS and Android that can be downloaded free of charge under the name Migraine App .
If necessary, list of all medications, previous treatments and hospital stays
Health insurance card and, if necessary, referral from your family doctor or specialist
Consultation hours with Prof. Dr. Hartmut Göbel
One
Appointment
for the outpatient consultation of Prof. Dr. Hartmut Göbel can be contacted via the chief secretariat.
Phone:
0431-20099150
Fax:
0431-20099159
E-mail
sekretariat@weckklinik.de
In order to keep waiting times in the practice short, we make appointments by telephone . But medical work, especially in the diagnosis and treatment of chronic pain, often cannot be planned in advance. Please be patient with us if it takes a little longer! Call us before you head to your appointment. We will tell you if there are any delays and discuss with you whether you can come later accordingly. When you come to us for the first time, remember what a previous patient said: "It's not how long you wait, but what you wait."
Help our team with scheduling: When making your appointment, please let us know if your visit will require special time. If you are unable to keep an appointment, please be sure to notify us, even at short notice!
Please compile the above documents yourself and bring copies with you to keep with us. This relieves us and leaves more time for you and your treatment. Thank you.
Many questions about organization and treatment are also discussed in our migraine and headache forum:
Headbook - The patient forum of the Kiel Pain Clinic
Guest room booking and accommodation for accompanying persons
book a room separately for your outpatient appointment, your visitors and accompanying persons !
Email reservation request
Our guest room offer
For accompanying persons, visitors and guests

For your outpatient appointment

For earlier arrival

For your extended stay in Kiel

73 €/day incl. breakfast, WiFi and incl. value added tax

58 €/day incl. breakfast, WiFi, incl. Sales tax per person in a double room

Children up to 6 years stay in their parents' room free of charge
Neurological-behavioral pain clinic Kiel
Heikendorfer Weg 9-27
24149 Kiel
Telephone: 0431 – 20099-0
Fax: 0431 – 20099-129
E-mail: kiel@krebsklinik.de
vCard as QR code: please click here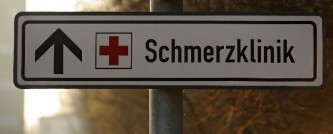 Location map and directions (Windows live local)
Location map and directions (google map)
Arrival by plane, train and car
There are very cheap flights to Hamburg from most airports in Germany, which are often significantly cheaper than train and car connections.
There is a direct, comfortable bus connection between Hamburg Airport and Kiel Central Station, the Kielius Bus . The buses run every hour. You can find the current timetable here .
From the main train station, bus line 11 goes to the pain clinic, stop Grenzstraße,
timetable bus line 11 Hbf- Grenzstraße
There are taxis in front of the main train station. The journey to the pain clinic, Heikendorfer Weg (approx. 15 minutes) costs around 10 euros.
You can also take the ferry from the main station to the Wellingdorf pier.
The ship timetable for your mini cruise to the Kiel Pain Clinic
Online timetable of the Kiel Fördeschiffe
Arrival by car from Hamburg via A7 to Bordesholm motorway triangle, then A215 to Kiel.
Directions from Flensburg via A7 to Rendsburg motorway triangle, then A210 and finally A215 to Kiel.
In Kiel always follow the signs " Ostuferhafen"
After crossing the Schwentine in Neumühlen-Dietrichsdorf, follow the signs to "Ostuferhafen" . Leave the B502 (Ostring) through the tunnel to the left into Heikendorfer Weg (please do not continue straight on to Heikendorf). The Kiel Pain Clinic is located after approx. 200 m on the left on the banks of the Schwentine estuary.
Parking : At the clinic you can use our clinic parking spaces. There are also disabled parking spaces and parking spaces with charging options for electric vehicles with Type 2 charging plugs. The clinic parking lot can be reached via a barrier. The flat daily fee is 3.80 euros. To enter and exit, please only use your EC card or your bank's money card (please not debit cards or credit cards). This allows for stress-free parking without queuing at the pay machine and no problems with change.
have your luggage delivered from your home to the pain clinic with Hermes and brought back when you are discharged. With the "courier luggage" offer, you can conveniently collect your luggage from home and have it delivered to the pain clinic! You can buy your courier baggage tickets on bahn.de. Ordering the Hermes courier luggage service is possible until 12 noon on the working day before luggage collection The delivery time is usually 2 working days.